Heart Strings Art Exhibit and Silent Auction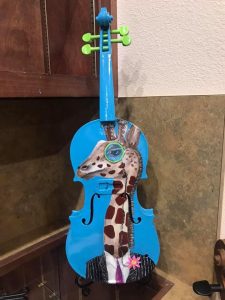 Enjoy unique pieces of art by a variety of community artists, each transforming an unplayable instrument into new beauty. The exhibit is free to attend and will be open for a month. All pieces are available for bidding by silent auction, either in person or by replying to the bidding thread here in this event. The auction will culminate during the YSO's annual Valentine's Gala February 6.
Artists include:
Katie Britt, Chamber of Commerce marketing director and abstract artist
Fuago, spray paint artist
Chip Kouri, whimsical artist and teaching artist
Dr. Matthew D. Luttrell, aspiring artist
Adam Lynskey, percussionist and percussive artist
Madeline Marks, student artist mentored by Kim Ward
Selena Mize, muralist
Lainie Norman, military spouse and artist
Jordan Waddell, abstract artist
Bill Whitley, ranch artist
Contact Jean Hall, executive director, for more information about the exhibit or to purchase tickets to the Valentine's Gala.
940-723-6202
jhall@wfyouthsymphony.org