Apprentice Program
Every season, YSO Juniors and Seniors have the opportunity to audition to participate in our Apprentice Program, in partnership with the Wichita Falls Symphony Orchestra.  Two to four students are selected and partnered with a professional mentor. Each student receives five private lessons and then performs on stage with his or her mentor at a Wichita Falls Symphony Orchestra concert. This is a wonderful educational opportunity for our students!
Congratulations to the 2019-20 Apprentices
Matthew Bitz, violin; Sadie Horton, flute; Sergio Pereiro, saxophone; and Arianna Menden, cello
Congratulations to the 2018-19 Apprentices

Aaron Wheat, violin; Janell Hoff, violin; and Kevin Shultz, percussion.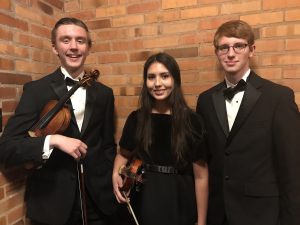 2017-2018 YSO Apprentices
The YSO is proud to announce our 4 apprentices for the 25th Anniversary Season: Brady Dehnert, Karl Dabalos, Cecilia Parker, and Alexis Nicolas.