Advertise with WFYSO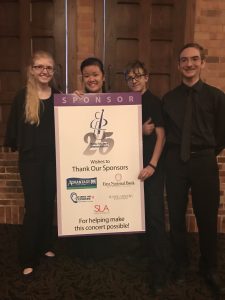 A great way for local businesses, civic groups and non-profits to support the YSO during the season is to advertise in our concert programs. If you are interested in purchasing an ad, please contact the YSO offices at 723-6202. Ads run in both our fall and spring concert programs.
Many thanks to our 2017-18 Sponsors and Advertisers!
We are thrilled to partner with our concert sponsors for the 25th Anniversary Season!
Advantage Realtor Group
First National Bank of Wichita Falls
Hearing Aid Express
Rolling Meadows
SLA  – Secord and Lebow Architects
Our advertisers for the year include the following:
American National Bank
Barnard Insurance-John Opie
Boomtown Bay Family Auatic Center
Breegle
Christ Academy

Dr. Andre P. Desire, M.D.
ER Now
First Baptist Church Academy of Fine Arts

First United Methodist Church
Frank and Joes
FUMC School for Little People
Ganache
Harper Perkins Architects

Don W. Heyen, DDS
Hospice of Wichita Falls
IATSE – Local 378
Jacksboro National Bank
Law Offices of Jeff McKnight
Leonard Key & Key PLLC

Kenny and Susan Mayo
MSU Marketing and Public Info
Akin Music Series, MSU
MWH Group, P.C.
North Texas Genealogy Association
Parkway Grill/Pelicans
Patterson
River Bend Nature Center

Stewart Title
Suggs Eye Clinic

Texoma Community CU
Vernon College
Waggoner Carpet 1
Wichita Falls Youth Ballet
Wichita Falls Museum of Art at MSU
Wichita Falls Music Teachers Association
Wichita Falls Symphony League – Applause
Wichita Falls Symphony League
Wichita Falls Symphony Orchestra